LA MATEBA Y SUS  RUTAS
LA MATEBA AND ITS ROUTES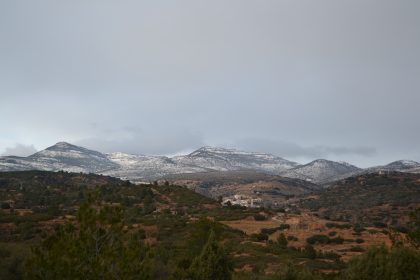 PAISAJE DEL TERMINO DE CORTES
PAISAJISTA, CULTURALES Y GASTRONOMICA
Nuestra comarca es tradicional por sus embutidos de carne pero también por la producción de alimentos de auto-consumo de sus huertas con lo que en la mayoría de los casos lo que se sirven en los establecimientos es directo de las huertas a la mesa. Desde aquí les recomendamos lugares de las poblaciones cercanas pero que no no necesariamente es el ideal.
Como rutas a pie destacadas e la del prv111  de 34 km y diversos caminos de nuestro entorno  con la garantía de  casi siempre ser  los únicos que lo transitamos, sin elementos urbanos que nos interrumpan la mirada.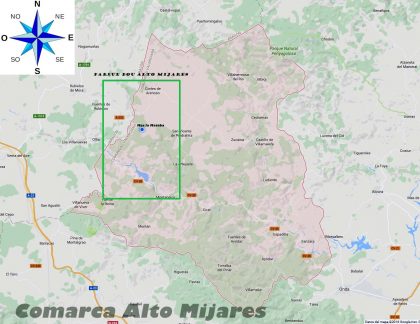 PLANO DE LA COMARCA Y AREA DE INFLUENCIA
Our county has traditionally been acclaimed for its elaborated cold meats and delicious sausages. Nevertheless, its lands also produce extremely high quality food mainly intended for self-consume. Therefore, in most occasions, the rural establishments of the area bring to their tables fresh, high-quality, slow grown, self produced food such as vegetables, fruits, honey or wine.
We may recommend you upon request some of the best praised establishments in the area.
Among the many rural walking routes that can be enjoyed in this privileged enclave of nature we highly recommend not to miss a walk along the track that follows the PR-V-111, of an approximate length of 34KM. These tracks hold some special characteristics, such as a total lack of urban elements that may disturb your glance, or the warranty of enjoying an astonishing track with a  very low ratio of walkers, which allows you to approach your trek at your own pace and to turn it into a more intimate and self-conscious experience.
ALGUNAS DE SUS POBLACIONES MAS CERCANA
SOME OF THE CLOSEST VILLAGES AROUND
MONTANEJOS:
Conocida como villa Termal con una barriada muestra de establecimientos entorno a las aguas termales de su rio, que además de sus propiedades para la piel mantienen cerca de 24 grados centígrados todo el año. A excepcional de los meses de verano que la sensación térmica impide la apreciación de este fenómeno y de la masiva afluencia de personas que enturbian sus aguas normalmente cristalinas. Distancia35minutos
VISTAS DESDE EL RIO MIJARES Y SU ALQUERIA
.MONTANEJOS:
Very well renown as a thermal village for many centuries, it presents a wide range of establishments around its river's thermal waters. Besides the skin-healing properties, its transparent waters hold a constant temperature around 24C on all four seasons. /Distance: 35 minutes
ZUCAINA:
Población que ejerció como frontera natural  al acceder al rio Villahermosa.
El Nombre fue puesto en honor a la reina Mora del gobierno árabe de la edad media  que tras la conquista de las tropas cristianas europeas se denominó la Baronía de Árenos.
Posee  diversos comercios como panadería ecológica y una oferta alimentaria barriada en especial del local Bar los Porches./Distancia35minutos.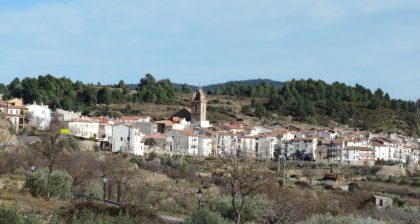 VISTAS DESDE LA CARRETERA  ZUCAINA A MONTANEJOS
ZUCAINA:
 This site was for many years the natural border that gave access the Villahermosa river. It was named after an Mozarabic Queen from the Arab government that ruled the area in the middle age. Afterwards Christians won back these territories and called it Baronía de Arenós. It offers different establishments, such as an ecological bakery and an outstanding eatery like Bar Los Porches. Distance 35 minutes.
CORTES DE ARENOSO:
Pueblo al que pertenece esta casa rural cuyo casco urbano a sido restaurado recientemente, mantiene en pie portales de los que fue un a población fortificada, por casi todas sus calles se pueden apreciar retablos cerámicos de iconografía religiosa y con un poco de paciencia se puede localizar la llave de acceso del museo del pan donde se expone una muestra de los utensilios mas antiguos en la elaboración del Pan diario desde el siglo XVIII./15minutos.
Tres comercios destacan en su población/Distancia 15 Minutos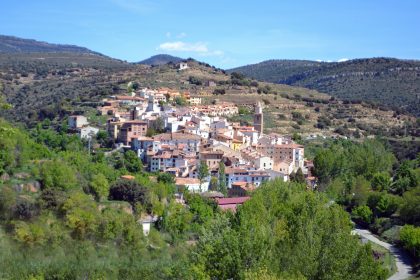 VISTAS DESDE LA cv190
CORTES DE ARENOSO:
Our rural house belongs to this village, whose inner city has been recently renovated. Among its little streets are still stone city gates to be seen, reminiscence of the fortification that once surrounded the village.
In most of its streets there are ceramic retables to be found and discovered, depicting religious iconography. With a bit of patience and knowing which neighbor's doorbells to ring, it is not difficult to be given the village Bread Museum's key to really have a visit on your own. This museum displays many of the ancients tools used to elaborate bread since s.XVIII. Distance: 15 minutes
SAN VICENTE DE PIEDRA-HITA:
Pedanía de cortes de Arenoso, esta población es tan desarrollada como la de cortes A.  también dispones de sus comercios y de la venta directa de Embutido de carne, y posee en marcha uno de los pocos hornos de pan moruno que le da al pan una textura y sabores muy interesante./Distancia25minutos.
PANORÁMICA DESDE EL CAMINO ASFALTADO DE LA PARTIDA DE LA MATEBA
SAN VICENTE DE PIEDRA-HITA:
 This village is under Cortes de Arenoso rule, despite being as big and developed as the latter. A wide range of establishments are in this village to be found, being the cold meat and sausage handcraft production one of the most outstanding and recommended businesses. This village proudly holds one of the very few old Arab bakery ovens still working nowadays, which produces handmade bread with a very unique taste and texture. Distance: 25 minutes.
RUBIELOS DE MORA
Declarado por la UNESCO como patrimonio de la humanidad, es una población con diversos establecimientos de artesanía y restauración alimentaria, gasolinera y mercado de alimentación  con una gran variedad de alimentos propios de las comarcas de interior,  quesos y embutidos, su población consciente de la distinción, mantiene la restauración de sus edificios que cuenta con numerosos palacios hasta una curios plaza de toros de solo media circunferencia./ Distancia 35 Minutos.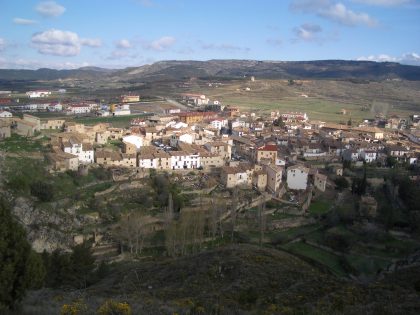 PANORÁMICA DESDE LA c232
RUBIELOS DE MORA: This village was awarded World Heritage Site by UNESCO in 1996. In this village it is easy to find craft-works shops, a wide range of very good gastronomical establishments, a gas-station and a supermarket housed within one of the most well reputed cold meats and sausages manufacturers, Casa Mata.
Its inhabitants, self-awared of the village's beauty and deeply proud of the UNESCO award, have greatly contributed to restore and preserve the buildings and houses in the village. Walking around its little streets and paying attention to the many wood and stone carved decorations and architectonic details is a delightful experience, enhanced when visiting its several palaces of great historical relevance and architectonic interest and its very peculiar ancient semicircular bull-fight arena. Distance: 35 minutes.
DECÁLOGO PARA DISFRUTAR MEJOR DE NUESTRAS EXCURSIONES AL CAMPO
DECALOGO OUR BEST TO ENJOY field trips
Formar parte del espectáculo: no darlo.
 Being part of the show: I do not give.
Lo único que no tiene  su lugar apropiado es tu propia Indiferencia: El mayor basurero.
The only thing that does not have its proper place is your own Indifference: The biggest garbage dump
 Somos lo que miramos en consecuencia nada de lo que nos rodea es peor que nosotros mismos.
We are what we look therefore nothing around us is worse than ourselves.
Todo lo que te acompañe ha de volver al lugar del que  procede.
Everything must accompany you back to where it came from.
Nada de lo que veas quiere cambiar de residencia: Déjalo donde estaba.
Nothing you want to see change residence: Leave it where it was.
Tu legítima curiosidad lo será todavía más sino despierta el temor, la huida o el abandono de quienes residen todo el tiempo allí donde tu estas de paso.
Your legitimate curiosity will be even more but arouses fear, escape or abandonment of those who live there all the time where you are passing through. 
Si te diluyes en el escenario mejora la representación: No destaques, ni por tu vestimenta, ni por ruido ni torpeza Actualmente nada  absolutamente nada justifica que enciendas un fuego en un área boscosa.
If you dilute you on stage improves representation: No highlights, or by your clothing or noise or clumsiness currently nothing absolutely nothing justifies you turn a fire in a wooded area.
La mayor parte de las indicaciones delos guardias  de los lugareños y propietarios tiene el aval de la experiencia y su amor por el lugar que visitas.
Most of the indications de los guards locals and owners have the backing of experience and love for the place you visit.
Contemplar enseña diez veces mas que buscar y cien que perseguir: Colecciona emociones, son más frescas que las imágenes, cuando mires recuerda que también te están mirando.
Contemplate taught to look ten times and a hundred to chase Collect emotions are cooler than the pictures, when you look remember that you are also looking
Joaquin Araujo