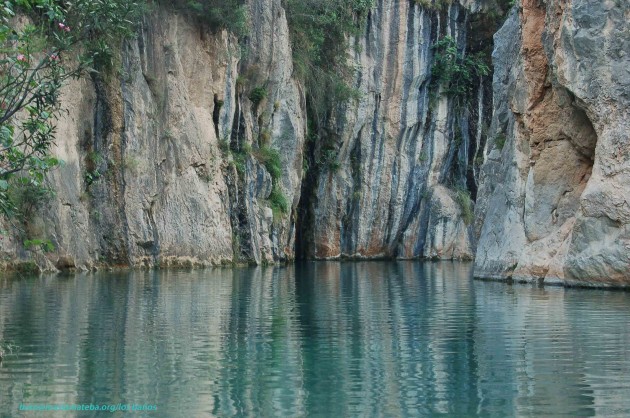 We propose a path carved in stone crossing dramatic cliffs excavated by water erosion and climatic elements in a unique mountain scenery.
A historical journey following  a path more than 6,000 years old and full of landscapes to remember. Altitude changes during the trail will allow us to see rare flora in the Mediterranean environment.  A trek that will take us to the entrance of the impressive Cueva Negra (Black Cave) and ending in a hot spring bath (24 º C all year) with regenerative properties for the skin where I always recommend a dip.
Trail Facts:
Duration: 5h.
Length: 9km.
Altitude 300m, 400m climb up
Difficulty: Medium-low, suits all types of people.
Essential equipment: hiking boots, backpack, water bottle of 1.5 l, light raincoat, swimsuit and towel, Recommended to bring nuts or dehydrated fruits.
Price: 75 Euros, including guide, food and round-trip transportation from Castellón, Teruel and / or Valencia. Accommodation and extras on request.